Assist Brookside Structure Fire
7/20 - Early Monday morning Brookside was dispatched to Hannon Rd for a structure fire. Kuhl Hose was sent to assist with one engine. Chief 240 arrived on scene and confirmed well-involved fire in a 40 x 30 garage. On arrival Engine 683 laid in from a hydrant on the corner of Hannon and Ridge Parkway. 500 ft of 5 in supply line was laid to Engine 242 performing the fire attack with three hand lines. Once water supply was established, the crew from 683 assisted with suppression and overhaul.
Engine 682 and Rehab 68 were also requested and assisted on scene in addition to Belle Valley, Fairfield, Wesleyville and Fuller Hose RIT. Cause is being investigated by the Brookside Fire Department.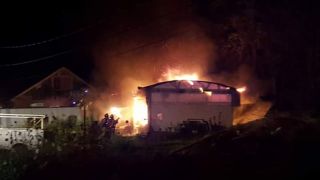 Independence Day Fire

07/04 - Just after six Saturday evening a fire was reported at a farm on Clemens Rd. Kuhl Hose was dispatched along with several other departments. Chief 681 responded and was advised of a barn fire. A Kuhl Hose member arrived on scene prior to 681 and the apparatus. He worked with several family and neighbors to form a bucket brigade and was able to keep the fire in check. On arrival 686 stretched 1 - 13/4" line and extinguished the fire. Crews from 686 and 683 checked for extension in the barns structure, manure pile and other farm materials. The cause of the fire appears to be from outdoor burning that spread to the barn. Wattsburg 176 assisted at the scene.

RIT Assist Union City

05/28 - Union City was dispatched for a residential structure fire. Command reported a well involved residential structure on arrival. Corry 108 Rescue was originally assigned the RIT assignment but enroute Command requested 68 RIT to the scene as 108 would be going to work. 685 & 686 were also requested to the scene for water shuttle operations. On arrival 683 set up on side A, monitored conditions, worked with safety and assisted with other fire ground operations as required and appropriate. REHAB 68 also responded to assist at the scene. The fire is under investigation and no injuries were reported.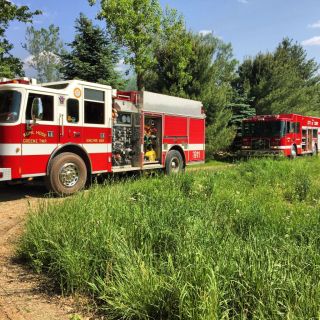 RIT Assist North East
05/20 - North East was dispatched to Lake St for a structure Fire. Kuhl Hose was dispatched as RIT. Engine 202 arrived first on scene, confirmed a working fire and began an attack. As 683 Engine was en route East County Dispatch relayed that there were two structures involved. A second RIT was dispatched from Belle Valley with this information. On scene 68RIT set up in the A-B corner and 36 RIT set up on the Charlie side. RIT monitored conditions, placed ladders and provided support. Attack and truck crews from Fuller, Crescent, Fairfield and Greenfield worked to contain the fire and assisted at the scene.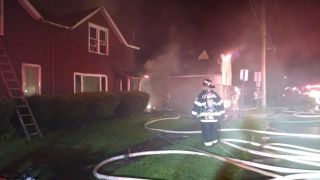 Barn Fire assist Waterford
05/03 - A barn fire on Union Rd in Waterford township Sunday afternoon was a total loss. Crews were called to a report of a barn fire just before 2:30 Sunday afternoon. Chief 150 arrived on the scene and reported a working fire. Kuhl Hose was dispatched to assist and responded with Engine 683 and Tenders 685 & 686. Crews stretched multiple hand lines to protect exposures, make a knock on the fire as well as set up portable monitors to contain the fire. Water was shuttled from a dry hydrant as well as municipal water source several miles away. Edinboro, Mill Village, Union City, and Perry Hiway also assisted Waterford. Crews cleared the scene in just under 5 hours.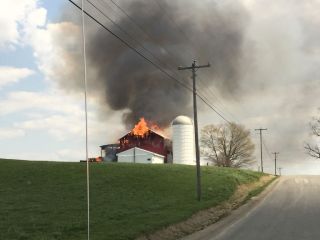 Brush Fire assist Brookside
4/19 - Kuhl Hose was dispatched to standby to assist Station 24 with a brush fire on Hannon Rd Sunday night. Chief 240 arrived and reported over 1 acre of field on fire. 689 was requested to the scene, and 697 also responded with additional manpower.
Upon arrival on scene, 689 stretched a booster line and used hand tools to contain the fire. Tender 685 was also called but canceled once the fire was under control. Harborcreek and Fairfield also assisted.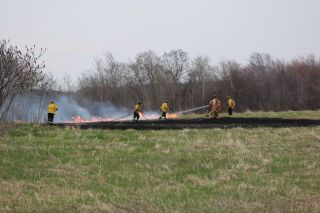 Structure Fire Assist Mckean
02/26 - Kuhl Hose was dispatched to assist Mckean early Thursday morning. Mckean was dispatched to a house explosion with fire just before 06:00. On arrival units reported a fully involved structure. The house was a long distance from the roadway. A multi unit pump relay was established using a multiple water tender shuttle operation for the supply. Kuhl Hose send both 685 & 686 to assist along with Perry Hiway 435, Edinboro 383, Fairview 535, and Waterford 145. Units shuttled water from 2 established supply points. The fire was under control in a few hours and units were returned. REHAB 68 also assisted at the scene working with West Ridge rehab.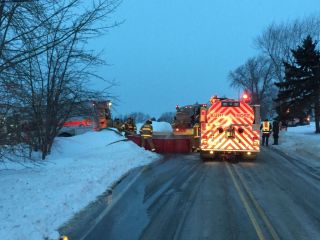 Structure Fire Assist Wattsburg
02/08 - Just before 09:30 Sunday morning Wattsburg was alerted to a structure fire on Young Rd. Kuhl Hose, Greenfield, Elgin and Corry were also dispatched to assist. On arrival Captain 184 reported a working garage fire. 172 Engine crew arrived stretched a 2 1/2" line and made an initial attack. Crew from 683, 704 & 756 Engine's assisted with suppression efforts. Corry 108 held the RIT. Tenders 176, 685, 686 supplied water and squad 707 and medic 146 stood by. The garage was used as a small living area for 1 adult, as well as storage of farm machinery. The fire was contained quickly but took crews several hours to overhaul. The cause appears to be a wood stove, but official determination is underway.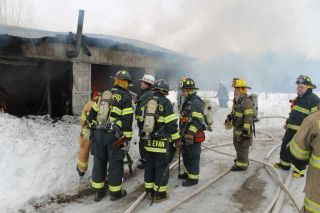 RIT Assist Union City
02/07 - Kuhl Hose assisted Union City at a residential structure fire. Crews arrived found and exterior fire that had extended into the attic space. Edinboro 382 was originally called for RIT, but went to work and 683 responded and held the RIT assignment until units were cleared.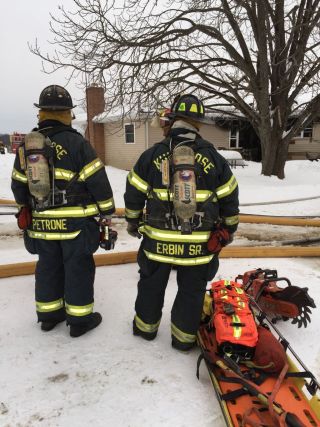 Structure Fire Assist Wattsburg
01/24 - Just after 5:30 Saturday night Kuhl Hose was dispatched to assist Wattsburg on Page Rd for a house fire. On arrival heavy fire conditions were reported throughout the 1st and 2nd divisions of the house. 680 assumed command as units arrived. 172, 174 and 683 engine crews made the initial attack with 2 1/2" hand lines. Engine 704 set up water supply and supplied 174 & 683. Manpower from 704, 363 & 369 assisted with suppression. 248 Rescue worked as safety/RIT. Tenders shuttled water from a pond about 1/2 mile away on plum road where 682 Engine was set up. Fuller Engine 204 & Tender 206 were special called to assist. The fire is under investigation and no injuries were reported.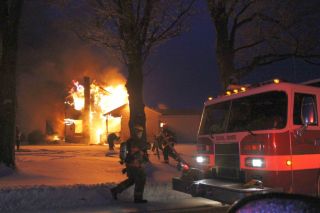 Snow Rescue Assist Greenfield
01/11 - Kuhl Hose was dispatched to Townley Run to assist Greenfield with an off road snow rescue. A 11 year old struck a tree while sled riding and had a traumatic leg injury. Greenfield 700 arrived and requested Snow Rescue 68 and manpower to help extricate the patient. On arrival, the patient was moved to the stokes and placed on the rescue sled, then extricated to the ambulance. 707 transported to UPMC Hamot. Snow Rescue 68 returned to service.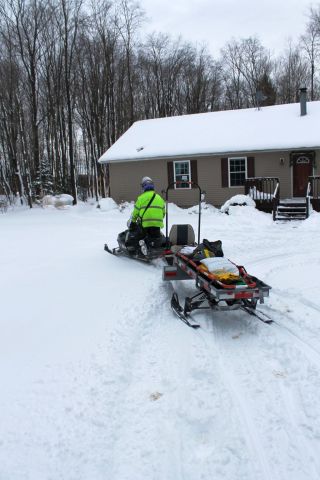 2014 Year End Report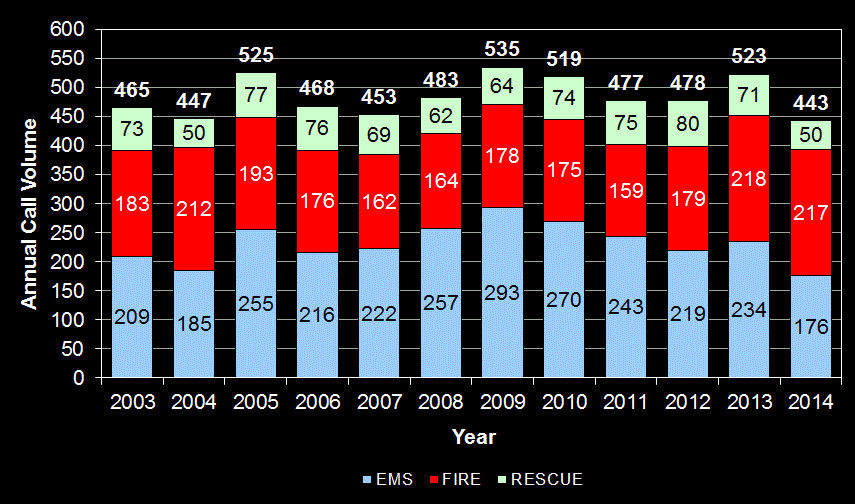 Structure Fire
12/31 - Just after 6:30 New Year's Eve Kuhl Hose was dispatched to RT 8 for a structure fire. Shortly after dispatch Captain 691 arrived and confirmed a working fire in an auto body shop. The owner reported large amounts of oil and propane inside the building. 683 arrived stretched a 2 1/2" line and 2-3" lines. Crews made an aggressive attack, and were able to contain the fire to the original portion of the building. The attached office area had minimal damage, and a second attached garage only sustained smoke damage. Water was shuttled from about a mile from the scene @ the Siegel Marsh dry hydrant by a 5 tender shuttle. The fire is remains under investigation. Kuhl Hose was assisted at the scene by Wattsburg, Waterford, Greenfield, Perry Hiway , Brookside and Emergycare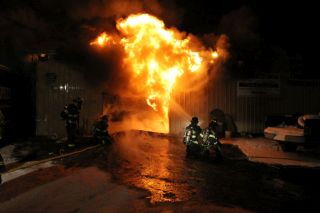 Humes of Waterford Gives to Kuhl Hose
12/29 - Kuhl Hose Co now has an additional tool to use to train first responders in CPR.
Humes Chrysler, Jeep, Dodge, Ram of Waterford presented Kuhl Hose with 4 - Little Anne CPR manikins used for teaching CPR. The donation was made in part through the Pennsylvania Automotive Association Foundation. The manikins will be used to train responders, boy scouts and other community members.
Special Thanks to Humes for the donation and your continued support of the community.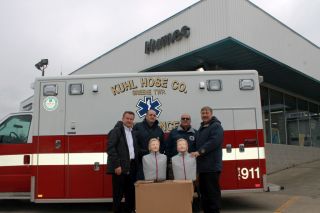 Mindi Ct Trailer Fire
11/29 - Just before 0530 Kuhl Hose was dispatched for RIT to assist Brookside for a structure fire. Chief 240 arrived on scene and reported a working fire. The only hydrant in this section of the trailer park was out of service and 240 called for a Tender 685 as well. Crews from Brookside, Wesleyville, & Lawrence Park quickly had the fire under control. 683 crew held the RIT assisnment, while 685, Fairfield and Harborcreek shuttled water from a short distance away. 683 Engine was the also the primary water supply engine from the drafting site, and was operated by Chief 260 as the 683 crew was assigned to RIT. 697 and Rehab 68 also assisted at the scene. The fire is under investigation by Brookside.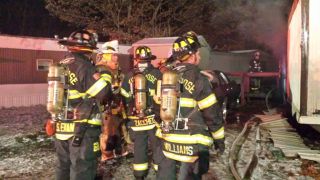 Black Friday Crash
11/28 - Friday morning Kuhl Hose and Emergycare were dispatched to Old Waterford Rd near East Rd for a roll over accident. On arrival 687 reported a vehicle on it's roof. 691 assumed command. 1 patient self extricated with minor injuries was found, 683 was assigned to secure the vehicle and 697 was assigned to assist fire police. Crews cleared the scene in 30 minutes and PSP is investigating.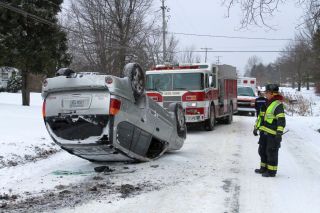 "The Buffalo Street" Structure Fire
11/23 - Kuhl Hose was dispatched for RIT to assist Brookside in the 5000 block of the Buffalo Street. Chief 240 arrived and confirmed a working fire. Enroute 683 Engine was upgraded from RIT to an engine crew assignment. Belle Valley rescue 368 was given the RIT. 683 arrived as crews from 263, 262 & 242 were making a hit on the fire as 289 performed OV and truck duties. 683 assisted with containing and extinguishing the fire. The remained on scene and assisted with overhaul. Ambulance 697 responded with EMS/support personnel and REHAB 68 was special called to the scene. Crews cleared the scene within a few hours. The fire is under investigation by the Brookside Fire Department.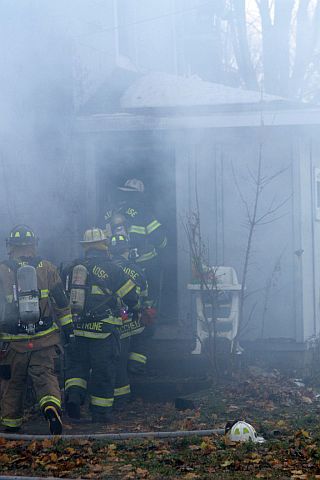 RT 8 Pin Job
11/22 - Kuhl Hose and Emergycare were dispatched to RT 8 & Barton Rds for a 2 vehicle accident. Dispatch received reports of the accident being a SUV vs Plow truck head on. On arrival 68-01 reported T-bone accident involving a Penn DOT vehicle but not a plow. 68-L2 assumed command and requested a RESCUE to assist as 1 patient was confined confined. 687 & 697 arrived, began patient care and started removing the driver door with the Holmatro BCT. 368 RESCUE arrived and finished the door removal. The patient was removed from the vehicle and transported to UPMC Hamot. The 2nd driver and a passenger in the 1st vehicle refused care.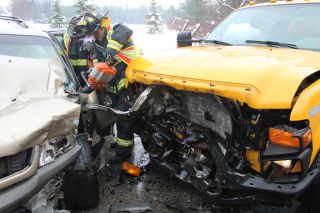 Downtown Greene Can Job
11/10 - Kuhl Hose was dispatched to a Structure Fire just before 10 am. County dispatch reported caller states they were using an oil lamp in the attic, it tipped over causing a fire. On arrival 680 reported smoke from the attic area. 680 contained the fire with a can prior to 682 & 685 arrival. Crews arrived worked to extinguish the fire using the can while Tower 369 crew ventilated the structure. Damage was kept to a minimum.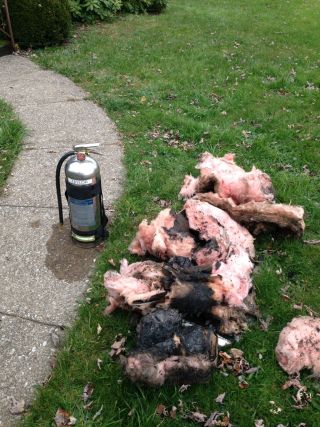 Lawnmower Fire
10/26 - 682 Engine responded to a lawnmower fire from the chimney fire. The owner was attempting to mulch leaves when the mower caught fire. 68-L2 arrived and reported a lawnmower fully involved with some extension to the surrounding leaves and brush. The fire was quickly contained and overhaul of the area completed. 687 responded for a victim with minor burns to face and leg. The victim was transported to UPMC Hamot.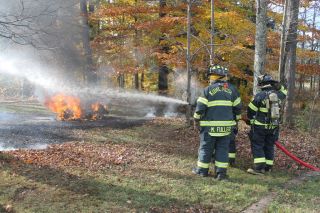 Chimney Fire
10/26 - Kuhl Hose and Perry Hiway were dispatched Sunday afternoon for a chimney fire. On arrival 683 reported nothing visible from a residential structure. 690 arrived and assumed command. 683, 685 & 429 contained, and extinguished the fire. Units cleared the scene in just under 1 hour. 682 Engine also responded but was diverted to another fire.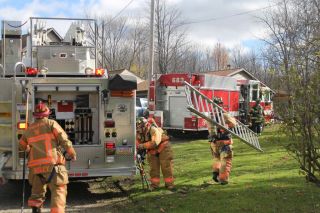 Assist Perry Hiway Structure Fire
10/18 - Just after noon Saturday Kuhl Hose was dispatched to assist Perry Hiway at a structure fire. On arrival Command reported a single story commercial brick structure nothing visible. When crews entered they found a fire in the rear wall & roof. 683 arrived assisted 423 & 362 Engine crews with hooking the ceiling, locating and extinguishing the fire. 429 laddered the building while 442 made the roof and worked open the roof and extinguish the fire. 683 cleared the scene within and hour. The fire is under investigation by the Perry Hiway Hose Co.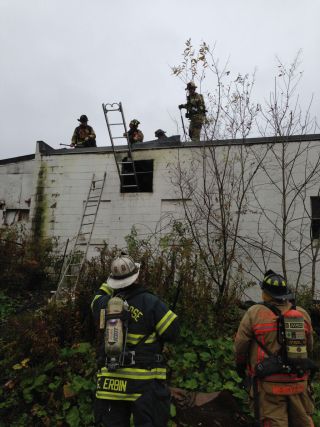 Assist Wattsburg MVA
10/18 - Early Saturday Wattsburg was dispatched for a vehicle accident on RT 8. On arrival Chief 180 reported 2 vehicles head on heavy damage. He soon requested a rescue/engine and ambulance to assist at an MVA early Saturday Morning. Engine 683 & Squad 697 responded. On arrival 683 assisted with scene lighting, securing vehicles and assisting 697 with patient care and extrication. 2 patients were transported with ALS to the trauma center. Fire Police assisted until the road was cleared and PSP is investigating the accident.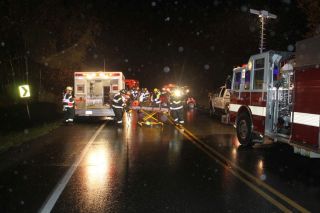 Off Road Rescue
10/17 - Kuhl Hose and Emergycare were dispatched to Old Wattsburg Rd for an off road accident. An overturned UTV was visible in a ravine far off the roadway. Chief 680 confirmed the best access would be off of Kuhl Rd. There was a farm field road that led to a closer access point. The victim was cutting wood alone in the woods and had planned to return on his UTV. He was backing up when the UTV got on uneven ground and rolled on its side. In the rollover, the patient was pinned by his lower extremities. Crews secured the UTV with chains and a come along, stabilized using cribbing and lifted the unit with airbags. The patient was treated and extricated then carried to the ambulance. 697 transported the victim to UPMC Hamot for evaluation of minor/moderate injuries.